See What Our Former Students
are Saying

About Us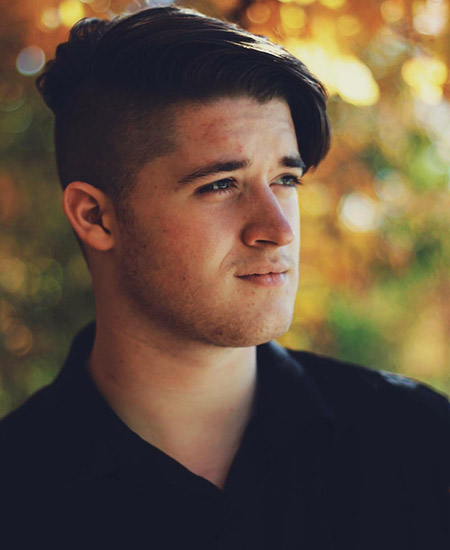 Joshua Adams, a GCT Alumni, now lives in Northern PA. He started his performing career at GCT back in 2011 and has been in over 40 shows playing roles such as Jesus in Godspell, Romeo in Romeo and Juliet, Huckleberry Finn in Big River, Lucas in The Addams Family, and many more. Besides performing, Josh enjoys exploring nature, cooking, and playing guitar.
"Working with Chad as a kid was such a great experience. He brought the perfect amount of discipline and fun to every event and performance we had. It helped all of us at the theatre grow into better performers as well as young adults. Without Community Theatre I wouldn't be who I am today because it really opens you up to so many opportunities and changes. I used to be a very shy person, but because of Community Theatre I have gained so much more confidence."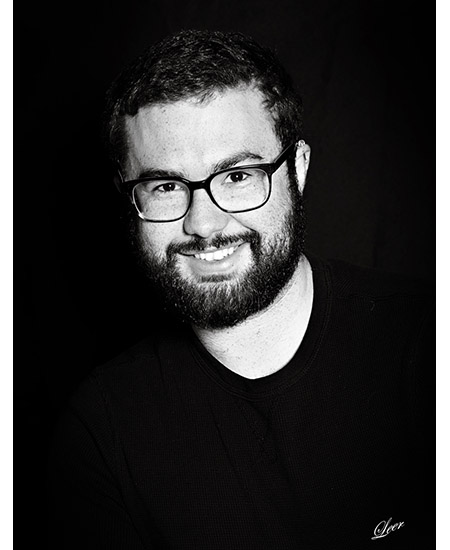 Andrew Adcock first began his love of musical theatre about 13 years ago under the direction of Chad-Alan Carr with youth productions of Disney's High School Musical and Peter Pan. After graduating from South Western High School, Andrew attended Immaculata University, where he was awarded a Bachelor of Music in Music Education.
While in college, Andrew had the honor to perform in Little Women (John Brooks), Mame (Patrick Dennis), Charlotte's Web (Wilbur), and Godspell (Jesus), as well as several other cabarets and children's productions for local elementary schools.
Since returning to theatre after a 2-year hiatus, Andrew has had the pleasure of being on the GCT stage in The Rocky Horror Show Live (Brad Majors), Joseph and the Amazing Technicolor Dreamcoat (Judah), and Godspell (Ensemble).
"It has been quite a wonderful experience getting to work with Chad-Alan Carr. He taught me everything I know when I got my real start in theatre almost 15 years ago and continues to teach me more and more every time I step into the theatre. Chad has this amazing ability to get the absolute best out of everyone. Chad has set the bar extremely high with the quality of work produced at GCT. It's an honor to be a part of such an amazing theatre and be able to push the limits of creativity."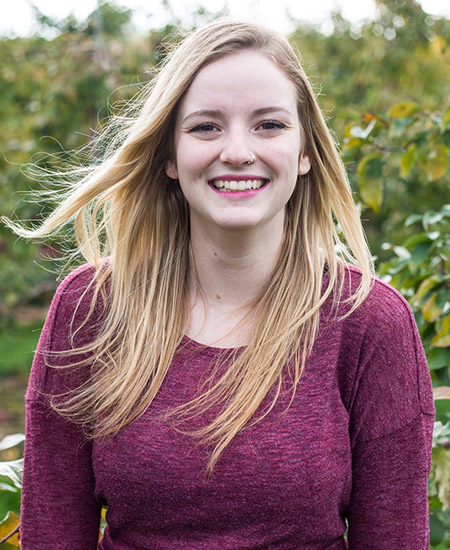 Hayley Briner is a Gettysburg Area High School alumni and currently a senior at the Rochester Institute of Technology, majoring in Media Arts & Technology. When she is not focusing on her studies, any free time she gets is spent performing. She is in RIT's co-ed a cappella group, Proof of Purchase, and recently finished portraying the role of Heather Chandler in Heathers.
Some of her favorite roles back in Gettysburg have been Mayzie la Bird in Seussical, Rosie in Bye Bye Birdie, Little Red Riding Hood in Into the Woods, and her personal favorite, Kira in Xanadu. She is extremely grateful for all of the opportunities that Gettysburg has given her to perform and wants to thank her family, friends, Chad, and the Gettysburg Community Theatre for all of their support.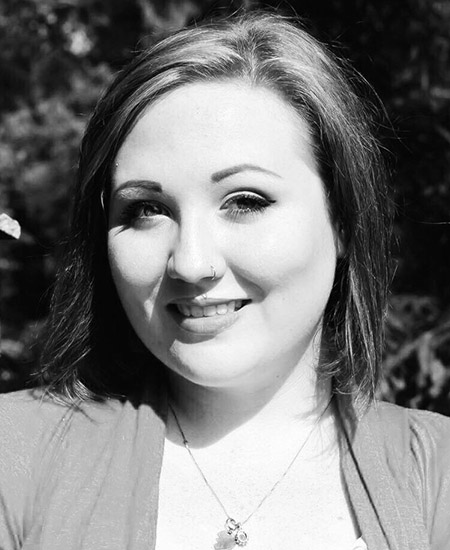 Jennie Dell has been involved in theatre since the age of 3. Appearing in both original shows by local artists and well-known musicals in local productions, she has a passion for being on stage! Jennie is also a licensed makeup artist and cosmetologist who specializes in theatrical face paint and makeup.
"Community Theatre has been a part of my life since I was 3 years old, and I can't imagine my life without it! The shows I have been involved in at GCT have given me not only cast-mates during a show, but lifelong friendships. I will always love and cherish every moment I have spent on stage."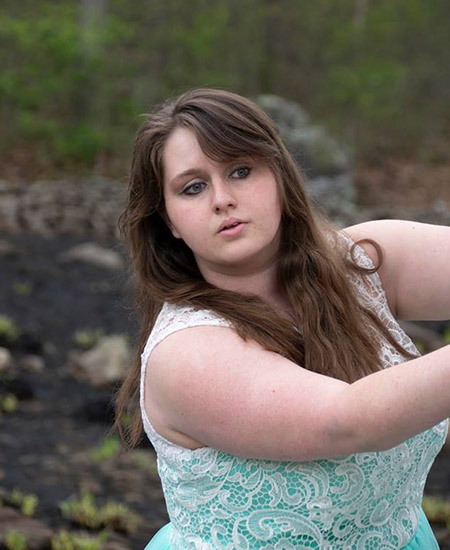 Jessi Gillingham is happy to be returning to GCT. She recently just graduated with an Associate in Fine Arts degree from Harrisburg Area Community College. She was Parsons in 1984 and Woman #1 in My First Time. She has been in numerous past productions at GCT as well.
"Working with Chad at Gettysburg Community Theatre helped spark my love of theatre and wanting to pursue it as a career. Community theatre allows children to express themselves and develop social skills and confidence that they can carry on throughout their daily lives."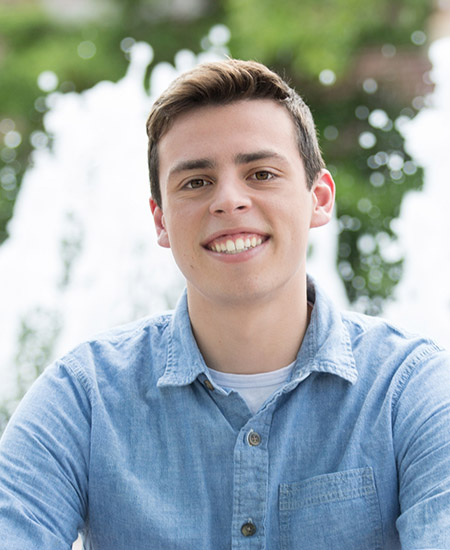 "I started at GCT during the first season it opened. Since then, I have been able to watch the theatre grow evolve, and help students have the same positive experience I had. Even though I am no longer a student, the opportunities I had during my time at GCT have given me skills that will help me through my entire life"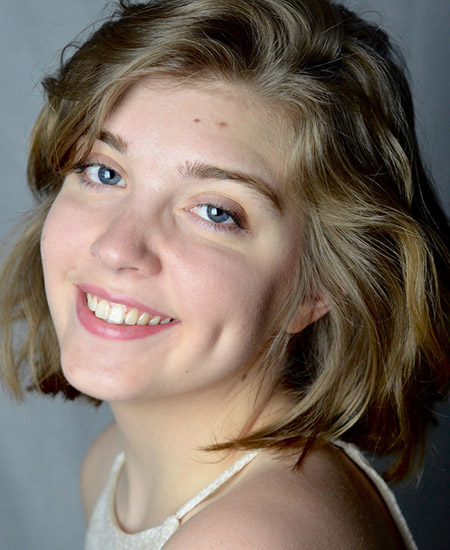 Shannon Hutchinson was a student at GCT performing as Sandy in Grease, and Sally Brown in You're a Good Man Charlie Brown. Shannon graduated from the Baltimore School for the Arts high school with a concentration in Acting.
Regional Credits
• Wait Until Dark (Everyman Theater)
• When Santa Met Sally (Allenberry Playhouse)
• Assassinaut (Ultra Fuchsia Films)
• Electric Jesus (Paris MTN Scout)
• The Little Chef(short)(Studio North)
Shannon makes time for college (between filming) as a Computer Science and Film major at Temple University. Shannon is so happy to be back at GCT again!
"Since my first show with Chad at 6 years old, the most astonishing thing I've seen is the development of character from my fellow students; kids opening up, making a community, creating lifelong friends, and coming out of their shell to become the best version of themselves. That is what theatre is all about."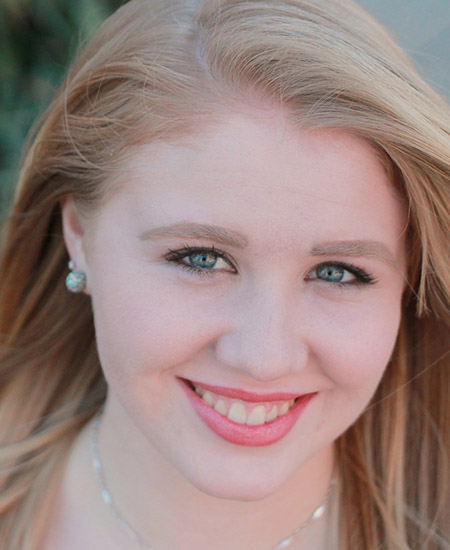 Marilyn Lopes is a rising senior at The Catholic University of America pursuing a bachelor of music degree in musical theatre. Some of her credits include:
• Assassins and The Wizard of Oz at Next Stop Theatre Company (Co- Costume Designer)
• Rodgers and Friends at the Kennedy Center (Assistant Stage Manager)
• Bloody Bloody Andrew Jackson at CUA(Co-Costume Designer)
Her favorite roles at GCT have been Sally Brown in You're A Good Man Charlie Brown and Rapunzel/Granny/Cinderella's mother in Into The Woods.
"Without GCT I would not be where I am today. It ignited the fire in my heart for Musical Theatre and really pushed me to be the creative person I have become. GCT gave me a place to cultivate the spark I had in me since I was a child. I will forever be thankful for what it has given me."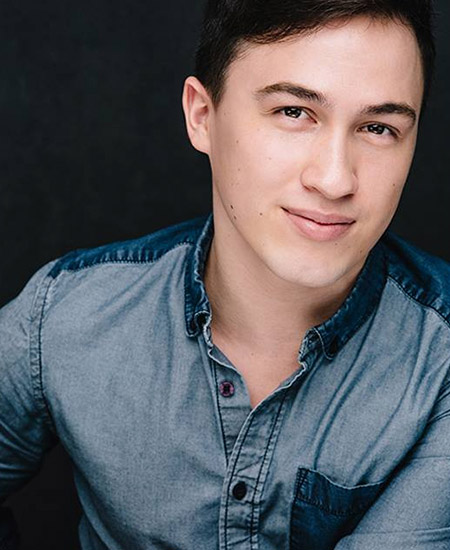 Kyle Meisner is a New York City-based performer. His hometown is Gettysburg, PA, where he began dancing at the age of four. He spent a few years abroad, where he continued his dance training at Choreart in Brussels, Belgium. He just graduated from Marymount Manhattan College with a Bachelors's Degree in Theatre Performance/Musical Theatre.
Credits
He gives tours of Radio City Music Hall on the weekends and is working on a debut EP that will be released this fall. His favorite roles range from Lumiere in Beauty and the Beast, Tobias in Sweeney Todd, and the Baker in Into The Woods.
Check out www.kylemeisner.com or @meisnerkyle on Instagram to follow his adventures. He is so happy to be back at Gettysburg Community Theatre and can't believe it's already been ten years!!
"GCT has brought so much love and light to downtown Gettysburg and inspired me (and countless other theatre lovers) to turn our dreams into a reality and that anything is possible! I would not be where I am today had it not been for Chad and GCT!"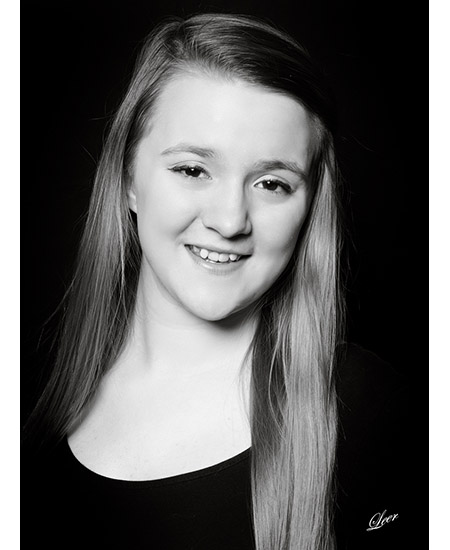 Madison Melton is very excited to return to GCT to reunite with old friends and perform in this Cabaret. She is currently going into her Junior year at Mount St Marys for Elementary/special education and has been doing shows with GCT since 2010. Past shows have been: Little Women (Beth), Music Man (Marian), The Wiz, Jesus Christ Superstar, and many more.
"GCT was where I found one of my biggest passions and learned how to express myself. During my time at GCT I met many amazing people and made tons of friends. I learned how to be more confident and outspoken and overall a better person. Community theatre is important because it helps people of all ages to confident and not afraid to shine."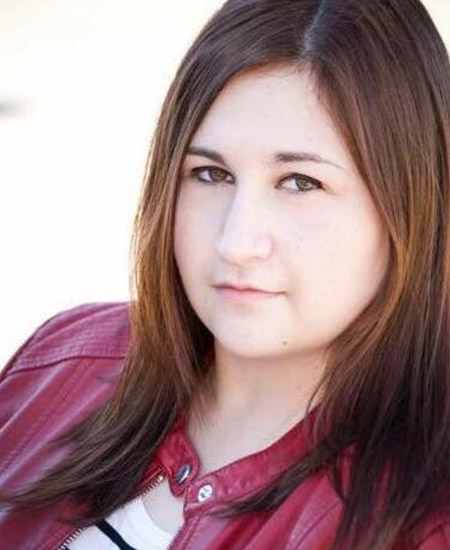 Abbie Mummert is thrilled to be back on the GCT stage with the Alumni Cabaret and our production of The Rocky Horror Show, having previously performed here in Grease and The Victim! She was a student at the American Musical and Dramatic Academy in NYC, and her most recent credit is Sister Mary Patrick in Sister Act down in Nashville, TN. She hopes you enjoy this fun show!
"Personally, I have been working with Chad since I was only seven years old and now I'm 21 and have gone to college for musical theatre in NYC, which I never imagined possible. I owe a lot of that to him. I can honestly say theatre has changed my life for the better. As someone who was diagnosed with anxiety at the small age of seven I cannot express how important community theatre is for youth. When being put in theatre I found my voice and I found my outlet to deal with my hardships. It's such an incredible opportunity to grow as a person and an artist and in this world I believe we need the arts more than ever."
Education: Gettysburg Area High School '13 West Chester University '18
BM: Music Education-Voice Minors: Music History, Bassoon
Activities at WCU: WCU Opera Theatre, Concert Choir, Chamber Choir, Mastersingers, High Street Harmonix a cappella, and Phi Mu Alpha Sinfonia Fraternity Professional Activities: Baritone Singer- Brandywine Chamber Singers Bass Section Leader and Alto Singer: St. Peter's Church in the Great Valley.
Beginning on August 5th, he will be making a pilgrimage to Westminster Abbey to complete a choral residency.
"I think GCT is one of the best things to happen to Gettysburg. It has created and spear-headed a new culture of art in this small community that is prospering. Thank you, GCT."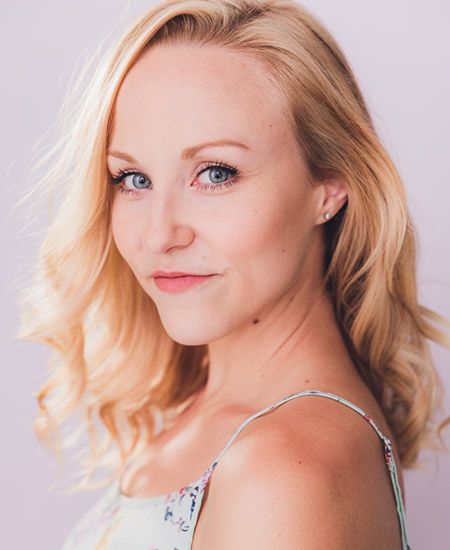 Liz Schmitz is a BFA in Musical Theatre from Penn State University and graduated from GAHS in 2011. She is a proud member of the Actors Equity Association. Endless love and thanks to my family. @lizschmitz
Credits
1st National Tour: An American in Paris (ensemble, u/s Milo), Matilda (swing, u/s Miss Honey), and the current tour of CATS
• Fulton Theatre (Ariel in Footloose, Sister Act, Elf, Joseph...)
• Maine State Music Theatre (Zaneeta in The Music Man, Young Frankenstein) Pittsburgh CLO (Spamalot)
• Pennsylvania Centre Stage (Anna in Spring Awakening, Guys and Dolls, Sweeney Todd)
"As a young student, I enjoyed performing at Gettysburg High and Middle Schools, Gettysburg Community Theatre, and Eichelberger Performing Arts Center. I also trained at the Hanover School of Ballet and in musical theatre programs through Syracuse University and The Kennedy Center in Washington D.C. After graduating from Penn State, I moved to New York City and signed with Daniel Hoff Agency. During college and my first year in NYC I worked for the Fulton Theatre in Lancaster, Maine State Music Theatre and Pittsburgh CLO where I was offered membership to the union Actors Equity Association (AEA). After two Broadway 1st National Tours, I am thrilled to enjoy some time off to be able to give back to the community and teachers who helped me become the performer I am today. Thanks for inviting me back GCT!"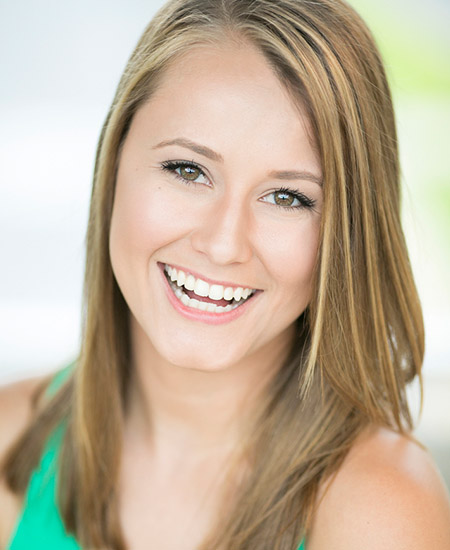 Lara is a BM in Musical Theatre from The Catholic University of America.
Past Local Credits
• Eichelberger Performing Arts Center - Bye Bye Birdie (Kim McAfee)
• Disney's High School Musical (Gabriella)
• Les Miserables (Cosette)
• A Chorus Line (Maggie)
• Children of Eden (Yonah)
Upcoming: Elf The Musical at Olney Theatre Center
Regional Credits (DC area)
• Adventure Theatre's World Premiere of Ella Enchanted (Lucinda)
• Arena Stage - Oliver! (Charlotte)
• Olney Theatre Center - The Little Mermaid (Ariel)
Disney Cruise Line
• Believe (Mary Poppins)
• Villains Tonight (Evil Queen)
• Toy Story: The Musical (Bo Peep)
• The Golden Mickeys (Aurora, Cruella DeVil)
• Dreams (Ariel)
University Credits
• Cabaret (Frauline Kost/Fritzie)
• On the Town (Claire DeLoone)
• Thoroughly Modern Millie (Miss Dorothy)
"I will always be grateful for my experiences with community theatre. It is the reason why I am doing what I am doing today. As a young theatre student, Chad allowed us to thrive, taught us discipline, and shared his knowledge and love of the arts with us. I hope so much that every child who is interested in theatre has even a fraction of the opportunity that I had growing up in community theatres."
Jared Herr began performing at GCT during its inaugural year. Some favorite shows include Honk (Ugly), Oliver (Artful Dodger), You're a Good Man, Charlie Brown (Charlie Brown), and The Music Man (Harold Hill, with his brother Josh as Winthrop). After graduating from Gettysburg Area High School, he went to Davidson College in North Carolina, majoring in film and media studies. There he was a member of the Wildcats swim team, president of the improv comedy troupe, and the weekly trivia host. He currently resides in Washington, DC where he is an assignment editor and production assistant with NBC4 Washington. GCT will always be a special place for him and the entire Herr family.
"The Gettysburg Community Theatre opened many doors for my son both emotionally and socially. He was no longer 'that kid who can't hit a baseball'. He has found where he belongs…on stage."
A mother of a student at GCT