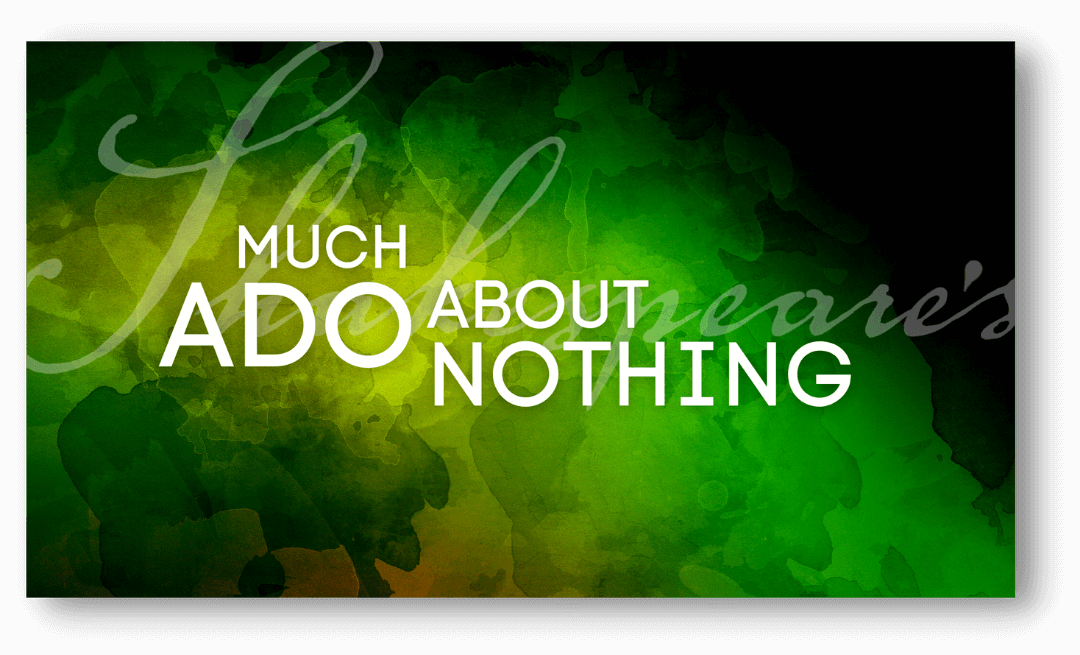 AUDITION NOTICE
Teens & Adults
Much Ado About Nothing
A Play By William Shakespeare
Directed by Samuel Eisenhuth & Julie Carlin
Audition Dates:
7pm April 2 or 3, 2023
Performances weekends August 4-13, 2023
Audition Information
Audition appointments are suggested but not required. Audition form is available via the link below.
In person auditions will consist of cold readings from the scripts.
If you cannot attend in person, please submit a one minute or less video audition of a Shakespeare monologue or sonnet.
Monologue is only required if you can NOT attend an in-person audition date at all.
Synopsis
A playful comedy layered with all the rich complexity that comes with Shakespeare's work, Much Ado About Nothing is a snappy, surprisingly timely meditation on gossip, gender roles, and the follies of romance.
Don Pedro, Claudio, and Benedick arrive in the Sicilian port town of Messina after a decisive victory on the battlefield. As they join in the post-war celebrations at the governor's estate, Claudio takes a liking to their host's daughter, Hero. Meanwhile, Benedick engages in a different sort of battle with Hero's cousin, the quick-witted Beatrice. Cupid-like characters conspire to bring our quartet of lovers together, while darker forces seek to drive them apart. Can love truly conquer all when the combined powers of deception, betrayal, and envy stand in its way?
Much Ado About Nothing is comedic, yet cautionary. Elegant, yet down to earth. It's mischievous and undeniably merry.
All roles are open except Dogberry.
ROLES AVAILABLE:
Leonato
Messenger
Beatrice
Hero
Don Pedro
Claudio
Benedick
Don John
Borachio
Conrade
Antonio
Balthasar
Margaret
Ursula
Verges
George Seacole
Watchman
Friar Francis
Sexton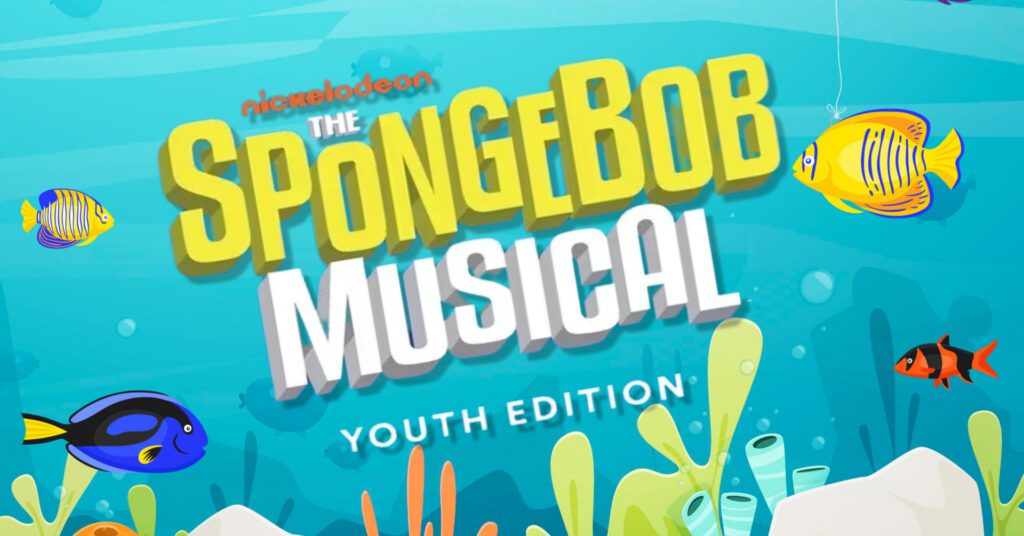 AUDITIONS
For Ages 6-18 Only!
6pm April 16 or 17, 2023
AUDITION REQUIREMENTS:
Everyone must sing. Please dress comfortably and prepare one memorized verse of a song of your choice from broadway, movie, pop, or country. If possible, bring sheet music for the pianist to accompany you or you can sing a capella OR you can choose to sing a verse from a song that we have sheet music to such as Over The Rainbow, Tomorrow, How Far I'll Go, Part Of Your World, or Do You Wanna Build A Snowman?
If cast, you will be invited to register for the by invitation only Production Class in which Rehearsals will be held 6-8pm Tuesdays April 25-September 1, 2023
Tech/Dress Rehearsals will be held every night leading up to opening performance.
Performances will be scheduled September 8-17 with the possibility of additional performances added by demand September 8-24
Please submit all unavailable dates on your audition form in order to be considered for casting. We try to work around everyone's conflicts and summer vacations, which is why we start so early.
Plunge into this stunning all-singing, all-dancing, dynamic stage show! When the citizens of Bikini Bottom discover that a volcano will soon erupt and destroy their humble home, SpongeBob and his friends must come together to save the fate of their undersea world. With lives hanging in the balance and all hope lost, a most unexpected hero rises up. The power of optimism really can save the world!
The SpongeBob Musical is based on the beloved animated series created by Stephen Hillenburg and features a book by Kyle Jarrow, with original songs by Yolanda Adams, Steven Tyler and Joe Perry of Aerosmith, Sara Bareilles, Jonathan Coulton, Alexander Ebert of Edward Sharpe & The Magnetic Zeros, The Flaming Lips, Lady A, Cyndi Lauper, John Legend, Panic! At the Disco, Plain White T's, They Might Be Giants and T.I., and songs by David Bowie, Tom Kenny and Andy Paley. Additional lyrics are by Jonathan Coulton, with additional music by Tom Kitt. The musical production was conceived by Tina Landau.
An exciting new musical featuring irresistible characters and magical music, this deep-sea pearl of a show is set to make a splash with audiences young and old. The future is bright, the future is bold, the future is The SpongeBob Musical.
This fun musical for all ages is based on the series by Stephen Hillenburg
Book by Kyle Jarrow
Musical Production Conceived by Tina Landau
Original Songs by Yolanda Adams, Steven Tyler and Joe Perry of Aerosmith, Sara Bareilles, Jonathan Coulton, Alex Ebert of Edward Sharpe & the Magnetic Zeros, The Flaming Lips, Lady A, Cyndi Lauper, John Legend, Panic! At the Disco, Plain White T's, They Might Be Giants, T.I.
And Songs by David Bowie, Tom Kenny & Andy Paley
Additional Lyrics by Jonathan Coulton / Additional Music by Tom Kitt
Nickelodeon, SpongeBob SquarePants, and all related titles, logos and characters are trademarks of Viacom International Inc.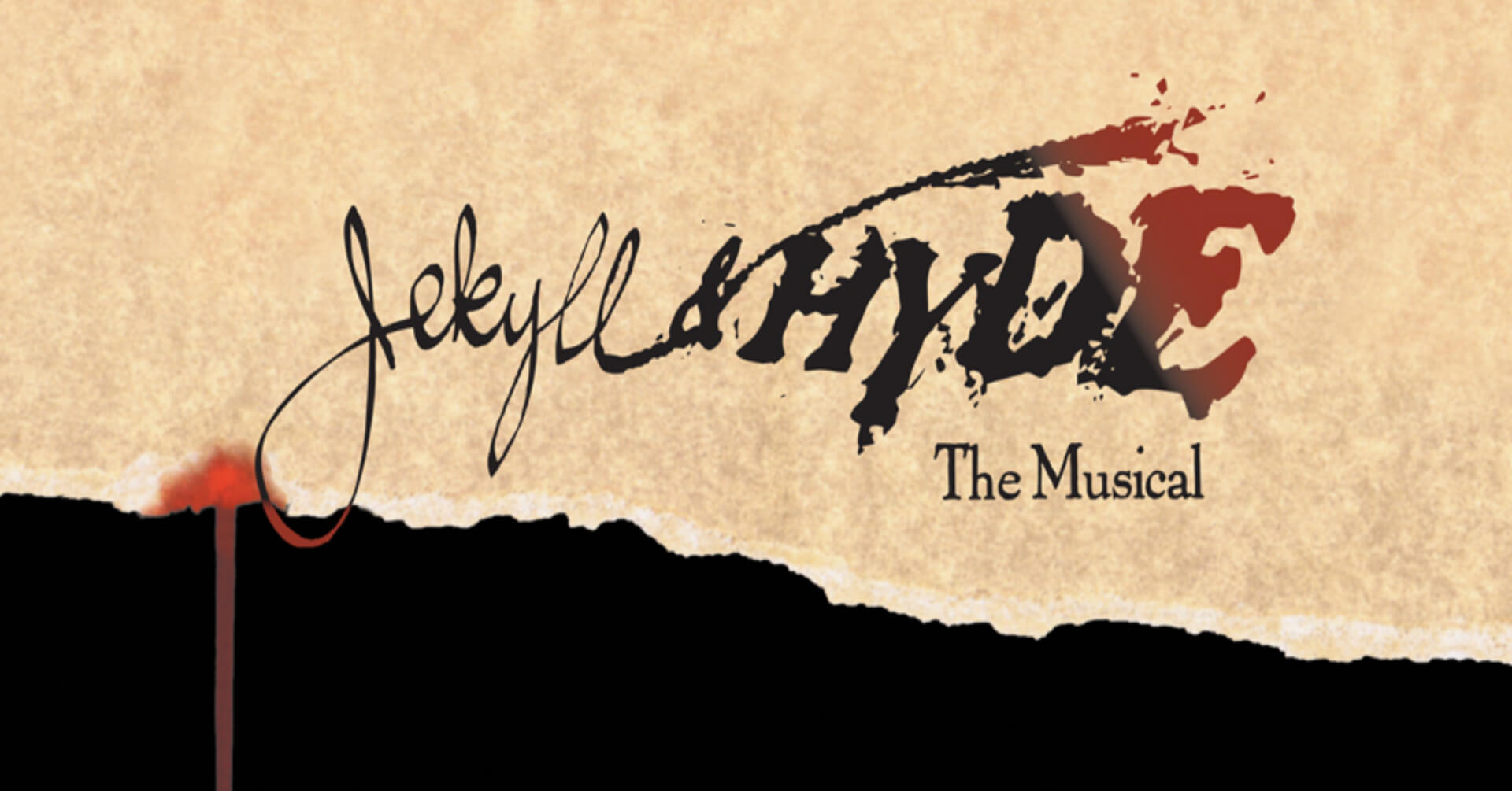 AUDITIONS
For Adults & Teens for
JEKYLL & HYDE the musical
7pm May 21 or May 22
Strong voices needed. All performers must sing in this production. Ability to read music is highly recommended for this vocally demanding musical score.
ALL ROLES OPEN!
Please prepare 16-32 bars of a Broadway or Pop song of your choice that best showcases your vocal ability. Audition songs should be memorized. Please bring sheet music in your key for the pianist to accompany your audition or sing a cappella if you must.
Bring your calendars and write down all unavailable dates as the rehearsal schedule will be created based on cast availability.
Performances will be scheduled October 13-22, 2023 with the possibility of added performance dates based on demand.
In person auditions are preferred, but video submission will be accepted if received BEFORE May 21st.
Directed/Choreographed by
Chad-Alan Carr
Vocal Music Directed by
Dave Bowman
THE STORY
The epic struggle between good and evil comes to life on stage in the musical phenomenon, Jekyll & Hyde. Based on the classic story by Robert Louis Stevenson and featuring a thrilling score of pop rock hits from multi-Grammy- and Tony-nominated Frank Wildhorn and double-Oscar- and Grammy-winning Leslie Bricusse, Jekyll & Hyde has mesmerized audiences the world over.
An evocative tale of two men – one, a doctor, passionate and romantic; the other, a terrifying madman – and two women – one, beautiful and trusting; the other, beautiful and trusting only herself– both women in love with the same man and both unaware of his dark secret. A devoted man of science, Dr. Henry Jekyll is driven to find a chemical breakthrough that can solve some of mankind's most challenging medical dilemmas. Rebuffed by the powers that be, he decides to make himself the subject of his own experimental treatments, accidentally unleashing his inner demons along with the man that the world would come to know as Mr. Hyde.
CHARACTER BREAKDOWN:
(AGES LISTED ARE SUGGESTED AGES OF THE CHARACTER NOT THE AGE OF THE PERFORMER)
Gabriel John Utterson
Serves as Jekyll's lawyer and helpful friend. He advises the troubled doctor on personal and professional affairs.
Gender: Male
Age: 30 to 45
Vocal range top: F#4
Vocal range bottom: B2
Sir Danvers Carew
Emma's loving father and Chairman of the Board of Governors. A charming and gentle man.
Gender: Male
Age: 60 to 70
Vocal range top: F#4
Vocal range bottom: C3
Henry Jekyll / Edward Hyde
Jekyll is a doctor obsessed with discovering the true nature behind the good and evil in man and Emma's fiancee. After he uses an experimental formula on himself, his evil side - Edward Hyde - takes control. As Hyde, he is violent, commanding, and a sexual deviant attracted to Lucy.
Gender: Male
Age: 30 to 45
Vocal range top: A4
Vocal range bottom: Bb2
Simon Stride
The secretary of the Board of Governors and Jekyll's rival for Emma's affections.
Gender: Male
Age: 30 to 40
Vocal range top: G4
Vocal range bottom: A2
Lady Beaconsfield
Bishop Of Basingstoke
A hypocritical, sadistic man of the cloth and a member of the Board of Governors.
Gender: Male
Age: 40 to 60
Vocal range top: G4
Vocal range bottom: C#3
Lord Savage
General Lord Glossop
A pompous retired army man and member of the Board of Governors.
Gender: Male
Age: 50 to 60
Vocal range top: C4
Vocal range bottom: G#3
Sir Archibald Proops
Emma Carew
The daughter of Chariman Danvers and Jekyll's beloved finacee who is refined and desired by all of the socialite men.
Gender: Female
Age: 20 to 25
Vocal range top: C6
Vocal range bottom: A3
Lucy Harris
The gorgeous 'main attraction' at a local gentleman's club. At the bottom of her luck, she becomes the object of Hyde's obsession. Lucy is feisty and wild, but also cautious and aware.
Gender: Female
Age: 20 to 30
Vocal range top: F#5
Vocal range bottom: G#3
Ensemble (similar to the ensemble of Sweeney Todd even more singing):
Aristocrats; Citizens; Servants; Party Guests; Prostitutes; Policemen