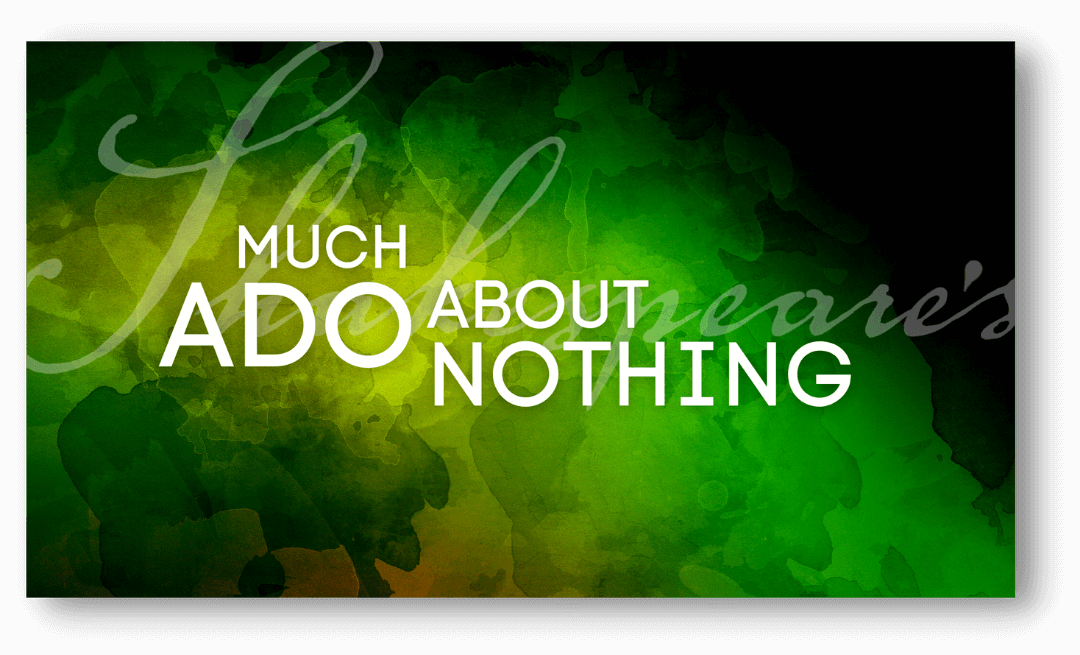 AUDITION NOTICE
Teens & Adults
Much Ado About Nothing
A Play By William Shakespeare
Directed by Samuel Eisenhuth
Audition Dates:
7pm April 2 or 3, 2023
Performances weekends August 4-13, 2023
Audition Information
Audition appointments are suggested but not required. Audition form is available via the link below.
In person auditions will consist of cold readings from the scripts.
If you cannot attend in person, please submit a one minute or less video audition of a Shakespeare monologue or sonnet.
Monologue is only required if you can NOT attend an in-person audition date at all.
Synopsis
A playful comedy layered with all the rich complexity that comes with Shakespeare's work, Much Ado About Nothing is a snappy, surprisingly timely meditation on gossip, gender roles, and the follies of romance.
Don Pedro, Claudio, and Benedick arrive in the Sicilian port town of Messina after a decisive victory on the battlefield. As they join in the post-war celebrations at the governor's estate, Claudio takes a liking to their host's daughter, Hero. Meanwhile, Benedick engages in a different sort of battle with Hero's cousin, the quick-witted Beatrice. Cupid-like characters conspire to bring our quartet of lovers together, while darker forces seek to drive them apart. Can love truly conquer all when the combined powers of deception, betrayal, and envy stand in its way?
Much Ado About Nothing is comedic, yet cautionary. Elegant, yet down to earth. It's mischievous and undeniably merry.
GCT PERFORMER DRESS CODE FOR ALL DRESS REHEARSALS AND PERFORMANCES OF GCT PRODUCTIONS.
(This is not summer day camp, evening classes, regular rehearsals or after school program attire.)
GCT has a mandatory dress code that must be followed to be able to participate in dress rehearsals and performances of all GCT productions. The costumes go ON TOP of this required production dress code.
During ALL dress rehearsals and ALL performances, you are to ARRIVE to the theatre ALREADY dressed in the following. Please do not change into this attire in GCT restrooms, dressing rooms, etc. ARRIVE and LEAVE in this dress code. The costumes go ON TOP of this dress code. There will be at least two co-ed dressing rooms with our staff and volunteers.
MANDATORY DRESS CODE TO BE WORN AT ALL DRESS REHEARSALS/PHOTO CALLS AND PERFORMANCES:
(This is for productions. Classes have a different dress code.  Please read the handbook.
Boys: Solid black jazz dance shoes, solid black socks, solid black sweatpants/black jazz dance pants (length must be long enough to hit tops of shoes), solid black spandex biker shorts/gym shorts worn under jazz pants, solid black or white plain t-shirt. No stripes or noticeable logos on pants.
Girls: Solid black spaghetti strap leotard or solid black tank top leotard, Flesh-tone tights/panty hose (no bare legs), solid black jazz dance shoes, solid black sweatpants/jazz dance pants (length must be long enough to hit tops of shoes).
Girl's hairstyles that are slick, nicely groomed hair in the following hairstyles are always much nicer on stage than your average pony tail or bun: French Twist, pigtail curls and ringlets, half up half down with curls, and "Little House On The Prairie" pigtail braids. Professional sleek looks really add to the glamour of the stage performance. Hairstyles vary based on the show, but hair should always be out of the face.
Boys and Girls hair should ALWAYS be out of the face and off of both eyebrows so the audience can see your eyes and smile. This is MOST important at Leer Photography Night and at the performances.