Meet Our Founding Executive/Artistic Director:
Chad-Alan Carr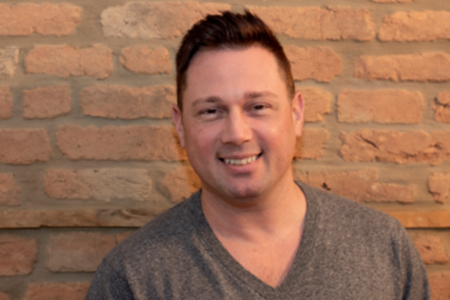 Chad received his formal training as a scholarship student of the B.F.A. Musical Theatre Program at Sam Houston State University, where he was also awarded a Distinguished Theatre Alumni Award for Achievement In Professional Theatre.
He has had the great privilege of teaching side by side Mr. Bob Fosse's protégé, Chet Walker, the co-creator of the musical FOSSE, and has also performed with such Broadway veterans as Jack Dabdoub, Rob Gallagher, Marie Danvers, Katie Rose Clarke, Greg Graham, Bruce Moore, and Jana Robbins.
With well over 200 productions to his name, Chad has been involved in professional and community theatres across the country for the past 30 years. He performed in the 50th Anniversary Broadway National Tour of Singin' in the Rain, which toured 46 states in the US, plus Canada.
Favorite roles include the title roles in Hedwig And The Angry Inch and Joseph And The Amazing Technicolor Dreamcoat, as well as Judas in Jesus Christ Superstar and Frank N Furter in The Rocky Horror Show. Chad's favorite show to direct is A Chorus Line featuring the original Broadway choreography, which he has reset staging for four different productions at theatres in Texas and Pennsylvania.
Chad is now seeing his dream come true, with the opening of Gettysburg Community Theatre in 2009. He chartered the International Thespian Society Troupe at Gettysburg Area High School in 2011 and guided GCT to become the Eastern States Regional Premiere of The Penguin Project (theatre program for youth with special needs and their peer mentors) here in PA in 2014.
Chad helped create the first-ever Gettysburg Pride in 2017 and chairs the event each year to help bring more LGBTQ+ Allies education, awareness, inclusion to Gettysburg. Chad has been a board member of the Pennsylvania Association of Community Theatres and Eastern States Theatre Association and currently serves on the national board of directors of the American Association of Community Theatres.
Chad co-facilitated the first two Youth Summits for AACT, including a weekend residency in NYC with youth from around the country networking and learning from professional actors, playwrights, and directors. He is honored to have been the Chair of the very first bi-annual Youth Theatre Festival for AACT's National Festival in 2017 in Rochester, MN, and was beyond excited to return to that same role, as well as help host/organize the AACT National Festival 2019 right here in Gettysburg in June 2019. Literally, hundreds of community theatre artists traveled to spend a week in Gettysburg to celebrate community theatre.
Chad wishes to thank every student, parent, volunteer, cast/crew/faculty/staff member, board member, sponsor, and patron for being a part of this dream called Gettysburg Community Theatre. He sends much love to his very supportive and loving family back in Texas, who always encouraged him to follow his dream!
President
Andrea Singley
Dillsburg, PA
Vice President
Kristine Witherow
Gettysburg, PA
Treasurer
Shelley Knouse
Gettysburg, PA
Dave Crowner
Gettysburg, PA
Scott Hartwig
Gettysburg, PA
Donna Knox
Gettysburg, PA
Ian Miller
Gettysburg, PA
Jane Patrono
Gettysburg, PA
Linda Toki
Gettysburg, PA
Chad-Alan Carr
Founding Executive/Artistic Director
Michael Connelly
Technical/Facilities Director